REVIEWING
SUB ROSA (A Novel)
By Dara Lebrun
Reviewed by M. J. Moore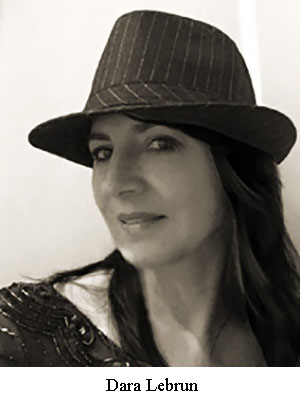 Dara Lebrun has given readers a gift with Sub Rosa, which is the second installment in her series of five interrelated novels about love and lovers, blended families, and the intricate fragilities of human relationships in today's world of yearning adults.
To have such an agenda within the form of novels is remarkable in itself.  Usually, if a writer is creating a cycle of interrelated works, it's in the form of a cycle of poems or a series of interconnected short stories.
Perhaps most famously, we've witnessed playwright August Wilson's stunning feat of completing a cycle of ten plays (known as The Pittsburgh Cycle), all of which form a thematic tapestry that's character-driven, familial, and encyclopedic.
In any genre, such a goal is a visionary quest.  For example, in August Wilson's canon, his comprehensive aim was to encapsulate a century of African-American life by way of ten plays, each one set in a different decade of the 20th century.  Fences and The Piano Lesson are probably the most famous parts of The Pittsburgh Cycle.
Similarly, author Dara Lebrun discovered that to flesh out the multilayered and overlapping stories she had to tell regarding a large array of urban American archetypes, a cycle of five interrelated novels would be required. 
Lebrun has said: "I didn't write The Bunny Hop, my first novel . . . with the intention of creating a series of novels about the same characters.  But when I finished it, I was left with questions and obsessions that have spilled over into the subsequent three novels I've written, and one still in progress."
Dara Lebrun has dubbed her vast panorama Children Who Aren't Ours.  The author is on the record here, having remarked that "I portray a group of social outcasts, of one stripe or another, each of whose life is changed by the presence of a child that is not his or her own, biologically." 
And if that's not dicey enough in relation to domestic arrangements and the tensions induced by blended families, there is this: Lebrun has committed to the fullest kind of serious exploration in fiction of human sexuality.  Her modern-day characters are gay, bisexual, and straight—or sometimes a free-floating mixture of all three.
   Sub Rosa manages a nearly impossible feat – to make new the age-old agonies of a single woman's love affair with a married man; a man whose life is consumed by his adolescent daughter.  The main male protagonist, Saul, is a married father of three children.  His six-year affair with Dahlia is at a tipping point, because on the cusp of her 40th birthday, a reckoning is demanded.
And while the unfolding story revolves mostly around the entwined fates of Saul, Dahlia, and his burgeoning teenage daughter, there's also conflict and potential disarray in the marriage of Dahlia's sister.  Nobody's life is simple in Lebrun's realm.
Also, her fictional realm is enhanced greatly by the degree to which she has made a contemporary Jewish-American edge an omnipresent element.  Her characters are, in many ways, the children and grandchildren of all those long-ago archetypes we once met in the novels of Henry Roth and Chaim Potok.  Nonetheless, Dara Lebrun's protagonists are often secular and seemingly far removed from the immigrant days of the past.  And yet, they're still bound together by Jewish rituals and holidays, and the many echoes of Yiddish expressions and urban Jewish-American ethos.
Here's a sample of what gives Sub Rosa its energy: "Now she awaited him, gazing out the window.  Right on time his cab pulled up at the curb—he always visited her by cab, did not want to even risk driving his own car to Lincoln Park.  There were branches of Hadassah near Dahlia's street, and his wife chaired some committee at the Greater Chicago Chapter in Skokie.  Any number of these 'nonprofit gadflies,' as Dahlia called them, could recognize him or his car.  When he took Dahlia for sushi or when they strolled through the park after lovemaking, he wore disguises: sunglasses or a visor hat in warm weather, or a woolen sock hat and thick scarf in winter."
As Chicago and its surrounding area provide backdrop, Saul then reminds Dahlia of the geometry of his extramarital situation: "Cheryl wouldn't give a damn . . . We haven't had sex since the twins were born.  She's even told me, 'Find a girlfriend.'  Not that I'd let her know I have—but her brother Richie, now he's got a gun, and that crackpot would shoot.  He's never liked me."
Dara Lebrun combines the domestic panorama of novelist and short-story master Richard Yates with a depth and vision that reminds one of Marilyn French.  But she is making a decidedly new contribution to American fiction.  Richard Yates's world of postwar marriages collapsing in the 1950s and 1960s (think Revolutionary Road and Young Hearts Crying) was then superseded by the politically inflected narrative of Marilyn French's The Women's Room.
With her Children Who Aren't Ours cycle of novels (The Bunny Hop and Sub Rosa will be followed by Half Crazy, Nephews, and The Habit of Yearning), Dara Lebrun steps up to chronicle, in her fiction, today's chaotic, bruised lives.
(M. J. Moore is a frequent contributor to Neworld Review.)