REVIEWING
John Oliver Killens—A Life of Black Literary Activism
by Keith Gilyard
The University of Georgia Press | 2010 | 385 pp. | $39.95
Reviewed by Herb Boyd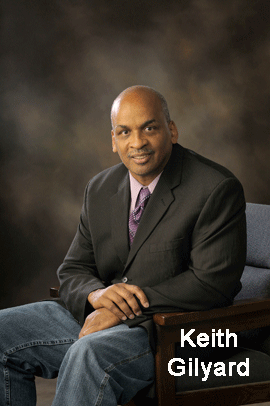 Only the most unenlightened, totally distracted participant at the Tenth National Black Writers' Conference at Medgar Evers College this year missed the significance of the late John Oliver Killens (1916-1987) and his tireless dedication at the event's very inception, in 1986. In fact, the subtitle of the bi-annual conference was And then We Heard the Thunder: Black Writers Reconstructing Memories and Lighting the Way.
Killens' legacy was invoked at practically every panel, where his literary genius, whether as a novelist, essayist, critic, polemicist, anthologist, or political activist, was roundly praised.
And for those who missed the panels, there were copies of the Killens Review of Arts & Letters, edited by Fred Beauford with a brief but poignant profile of Killens by Dr. Brenda Greene, executive director of the Center for Black Literature.
Keith Gilyard, in his absolutely absorbing biography of Killens' literary activism, wasn't able to include his assessment of this most recent gathering, but he assiduously captures nearly every important moment of Killens' highly productive life. In an almost diary-like manner, Gilyard painstakingly tracks Killens' remarkable odyssey, and if he missed a meeting or conference where Killens held forth, only his family, including his son-in-law the poet Louis Reyes Rivera, would know.
Gilyard shadows Killens' journey with deft precision and in doing so brings into sharp relief the times in which he lived, those who influenced him and the thousands he influenced.
Most literary hounds know of Killens from his novels, and none more notable than And Then We Heard the Thunder, which Gilyard, as he does with each of the author's books, carefully and thoughtfully limns. The same meticulous concern is given to the various lectures, essays, seminars, and conferences where Killens' insight is center stage. To accomplish this with such diligence and accuracy means Gilyard is either a determined collator or had the complete cooperation of the family and their archival supply of Killens' papers.
Whatever the case, the book is a fantastic testament to a writer and activist who was as unstinting in his literary pursuits as he was uncompromising in his political stances. One of the most engrossing chapters in the book is Gilyard's discussion of Killens' position on the race/class dichotomy that created so much turmoil and dissension among black activists in the mid-seventies.
As Gilyard observes, Killens was not a Johnny-Come-Lately to political infighting, particularly between those who professed that the principal contradiction in the struggle to overthrow the oppressor was class and those who posited race as the fundamental problem. "…I insist that the Black question is both a class question and a race question," Gilyard writes, quoting Killens. "One can be both a Pan African nationalist and at the same time be an advocate of socialism."
Killens was able to take this middling position because he had walked and talked to the likes of Paul Robeson, W.E.B. Du Bois, Harry Haywood, Howard "Stretch" Johnson, and other Marxist thinkers. And he knew well the sympathies and objectives of the nationalist such as Haki Madhubuti, who early on helped Killens shape the conferences that gave his name a lasting legacy.
Killens saw the strengths and weaknesses of both proponents and chose not to side with either the "narrow nationalists" or the "mechanical Marxists."
While much of the biography charts Killens' life in a praiseworthy way, there are moments when Gilyard is critical of the subject's production. He is not afraid to note some of the Killens' shortcomings, especially in the unpublished The Minister Primarily, which he views as "overdrawn and a bit suffocating." Even so, he adds, Killens' humor bursts through and the manuscript is to some degree redeemed.
But if Killens had done no more than organize the Harlem Writers Guild, along with the esteemed John Henrik Clarke, his place in the pantheon of black literature would be secure. A host of writers profited from the Guild—Maya Angelou, Sarah Wright, Rosa Guy, Ossie Davis, Ruby Dee, and countless others.
Film buffs will be interested to read Gilyard's examination of Odds Against Tomorrow, the film starring Harry Belafonte; for many years people were under the impression that Killens had authored the screenplay. Gilyard gets to the bottom of this affair, explaining that while Killens was not the author, he played a decisive role in restructuring the film's ending.
Gilyard does a fair job of dealing with the derogations and attacks on Killens by Harold Cruse, whom he concluded, "had read little" of Killens' writings and "certainly none of it closely." But to Killens, Cruse was nothing more than a "literary hatchet man," and chose not to waste a lot of time and energy challenging his vindictiveness. He would, however, expend more than a passing nod to William Styron and his novel The Confessions of Nat Turner, in which the author offers his "meditations on history." To Killens, the book was nothing more than a "fake illusion of reality because it legitimatized all of their [white Americans] myths and prejudices about the American black man…"
In the end, Gilyard has performed an admirable service and it's hard to believe anyone will be more definitive in capturing the wide arc that Killens cut through the literary firmament. And while the book's length is satisfactory, with twelve pages of photos and an extensive bibliography, an index would have given it additional value.
I don't think Gilyard will mind if we give Killens the last word: "Don't write about the Negro," he advised his young protégés. "But surely the American Negro is the most uniquely American of all Americans, because he was created here, in this place, physically, psychologically, sociologically, culturally, and economically. He is an American product. The Negro, in his black presence, is the barometer of the nation's Constitution, and all its democratic traditions yet realized." And John Oliver Killens was emblematic of this essence.