REVIEWING
Dry Bones (A Novel)
By Peter Quinn
The Overlook Press | 2013
Reviewed by M. J. Moore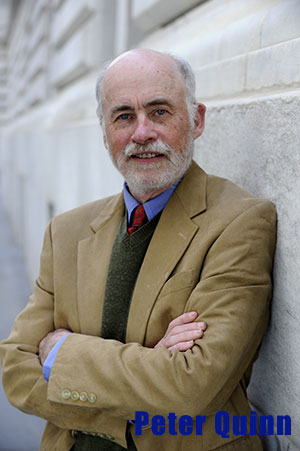 Back in 1998, PBS broadcast a startling four-part documentary series titled "The Irish in America: Long Journey Home." Part IV is a culminating narrative that oscillates between an exploration of the legacy of Nobel Prize-winning Irish-American playwright Eugene O'Neill, and the Kennedy family's mythic place in the American imagination. The only commentator interviewed for both halves of that final episode was Bronx-born author Peter Quinn.
At that time, Peter Quinn's first novel, the massively ambitious Banished Children of Eve, had been available for five years. Chronologically speaking, it was Quinn and Banished Children of Eve who helped set the stage for the success of Irish-related narratives that triumphed in the late 1990s with Frank McCourt's Angela's Ashes.
Now comes the capstone volume of Peter Quinn's "Fintan Dunne Trilogy," which is a rare kind of literary triptych. Quinn's new novel is called Dry Bones, and it brings to an end a three-volume series of novels that all feature the same protagonist (New York-based private investigator Fintan Dunne). But each of the three books can be read as a stand-alone work.
Perhaps author James Patterson has best summed up what makes Dry Bones and the first two volumes of the "Fintan Dunne Trilogy" (The Man Who Never Returned and Hour of the Cat) unique in today's world of books.
When summing up The Man Who Never Returned, Patterson made an extraordinary claim: "Peter Quinn just might make it into the history books himself. He is perfecting, if not actually creating, a genre you could call the history-mystery. Fintan Dunne is a memorable hero who you want to meet again . . ."
And now we do. The tightly knit, historically tense storyline in Dry Bones finds Fintan Dunne at the tail end of World War Two in the grim winter of 1945. He and another GI named Dick Van Hull volunteer for a hazardous mission behind German lines, where their goal is to rescue several OSS officers who are caught up in a knotty effort to aid the Czech resistance movement.
As lovers of mysteries, thrillers, and history all know, the OSS (aka: the Office of Strategic Services) was the forerunner of today's CIA.
And Peter Quinn makes the most out of the legendary mystique, the secrets and the tall tales, and most of all the sheer power of the larger-than-life (and oftentimes true-life) characters--especially General "Wild Bill" Donovan--whose exploits behind enemy lines helped to create a parallel history of World War Two's resolution.
Battlefield victories were merely one component of the Allied triumph. In some instances, it was intelligence-gathering, spy escapades, and myriad espionage capers that mattered most, as the brief Allied camaraderie of 1945 soon gave way to the distrust, mistrust, and paranoia of the oncoming Cold War epoch.
Although Dry Bones is a story grounded by the real-life events in the winter and spring of 1945, as Germany's gradual collapse raised rather than lowered tensions between the USA and the USSR (with whom we were allied out of tragic necessity), it's also a novel with a fluid chronology. Thus the narrative evokes not just the dying days of the Third Reich, but also the revolutionary mayhem (and America's off-the-record machinations) amid the onset of Castro's emergence in Cuba circa 1958-59, when the tenuous stability of the Eisenhower years began to prove vulnerable.
Holding all the overlapping storylines in check is the globetrotting protagonist Fintan Dunne, an Irish-American private investigator (he's also an ex-cop from New York City), whose military service in both World Wars gives him an unusual resume.
Fintan Dunne has the relentless curiosity of Holmes and Watson, the skeptical eye of Sam Spade, and the heart of an Irish romantic poet in a world gone wrong.
Here, too, author Peter Quinn has achieved something rare. Taken altogether, we see in the "Fintan Dunne Trilogy" a protagonist whose life has played out against not just the Second World War and its aftermath, but also World War One and the post-1918 era. Whereas The Man Who Never Returned begins to unfold in 1930, with ample room for flashbacks, the Hour of the Cat (lauded as "a thriller on the highest level" by Pulitzer Prize-winner Frank McCourt) is set in the late 1930s. It makes perfect sense for Dry Bones to conclude the trilogy circa 1945-1959.
This is a brazenly imagined timeline that Quinn has created, but it's not unrealistic. Plenty of American men who were born around 1900 (Hemingway was one of them) not only ended up "over there" during World War One when they were in their late teens, but were again in uniform in the early 1940s, as they entered their own 40s.
Blending fact and fiction together, writing his taut and yet still lyrical prose, and above all else sustaining a suspenseful narrative that is equal parts meticulously researched history and richly imagined fiction, Peter Quinn's Dry Bones is a gem.
Dialogue-driven pages give way to descriptive passages and momentum is never lacking:
When the elevator reached the lobby, he realized he was out of cigarettes. He crisscrossed through the traffic inching its way down Lexington Avenue. A cab jerked ahead, cutting toward the curb by Grand Central. The brakes screeched just short of slamming into Dunne.
Don't you want to know what happens next?
(M. J. Moore is writing a biography of novelist James Jones.)