ART BEAT
Art Beat- June 2011
by Lindsey Peckham
Cory Arcangel at the Whitney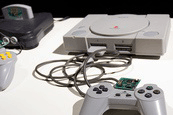 This show struck a particularly nostalgic nerve for me, as it spans three decades of video gaming, and any art exhibit with an excuse to put a Nintendo 64 on display is all right with me. The humor that Arcangel intertwines with a genuine commentary on the impermanence of technology is a potent and fun mix that is a refreshing kick-start to the summer season. There are also wire sculptures that were entirely created by machines whose moving parts were directed by Arcangel, and executed to his exact specifications. All that plus a rainbow of Photoshop gradients?  I'm in!
P.S. 1
Speaking of things I'm into, have you been by P.S. 1 yet? Their summer Saturday dance parties are epic, and the accompanying featured art shows are just as fun. Get out to Queens and enjoy the madness!
Ten Modern and Contemporary Artists at the Spanierman Gallery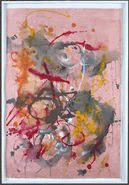 What's fun about this exhibit is that it takes the normally intimidating (at least to me) Spanierman Gallery and humanizes it with a colorful array of American art from the 19th century and forward. I was particularly drawn to Carol Hunt and Stephen Pace's splashes of color, which offset Teo Gonzalez's more subdued quadrants nicely. After you've meandered through Central Park, be sure to check out this beautiful collection, and envy those who are lucky enough to eventually own these gorgeous works.
El Museo del Barrio's Seventh Bienal
I have an undeniable fondness for the Museo del Barrio, as they have been beautifully renovated and expertly curated since then. And with their seventh bienal under way, what better time to discover the incredible wealth of talent on display, as well as enjoy the fascinating talks and events surrounding the seventy-five featured artists at seven different venues throughout the city. You'll be hearing much more about this particular event over the next couple of months as it unfolds.
The High Line, Part 2
As you can tell throughout this incessantly summer-themed installment, I'm psyched about the seasons finally changing. And how could you possibly enjoy the weather better than from the new and improved and expanded and revamped High Line? The second half is up and running, and it's a true visual feast. Do yourself a favor and bask in the sunshine a few stories above the pedestrian rabble.