This Month's Articles
REVIEWING
River Bend Chronicle: The Junkification of a Boyhood Idyll and the Curious Glory of Urban Iowa
By Ben Miller
Reviewed by Sally Cobau
Voracious Appetite
Lookout Books has done it again.  First they published the marvelous Binocular Vision by Edith Pearlman, then they published a short story collection by Steve Almond which had the pizzazz and quirkiness of all of Almond's work, followed by the devastatingly beautiful collection of poems by John Rybicki.
Now they've come out with a memoir by Ben Miller.  One of Lookout Book's missions is to publish "undiscovered" or "underappreciated" writers.  I don't know where Ben Miller fits into this—maybe underappreciated?   For surely I feel that I should have heard of him.  But his memoir follows in the footsteps of the other books by Lookout—it's original, risky, irreverent, and wholly engaging.
In River Bend Chronicle: The Junkification of a Boyhood Idyll and the Curious Glory of Urban Iowa (I know, I know—quite a title, which matches the maze-like sentences), Miller moves from the disgusting to the sublime in a single dash and no topic is off limits, whether it be defecting in his pants during an orchestra concert or discussing the suspicious way his mother rubbed him down with oils. 
In fact, the topics that are most uncomfortable are the ones the author returns to again and again.  One of these is his epic weight loss.  As a child he became obese, partly due to the way his mother and him would roam the local Target in the middle of the night and binge on candy and other junk food. 
Miller's mother would "choose" Ben over the other children to be her co-conspirator.  Perhaps you could say they were co-dependent.  But when Ben loses a colossal amount of weight (over a hundred pounds), she is actually.....Read More
REVIEWING
Travels with Epicurus: A Journey to a Greek Island in Search of a Fulfilled Life
By Daniel Klein
Reviewed by Fred Beauford
No Zorba
At first I didn't know quite what to make of this slim volume. Daniel Klein, an author with many books to his credit, was in his seventies when his dentist told him he needed tooth implants. But instead of summiting to at least a year under the drill, he heads to Greece, with a bag of books, to see if one of his favorite philosophers, Epicurus, could teach him something. about being an old man, with all its many problems, and dreaded fears.
I could tell from the very beginning of this book that this was no robust Zorba the Greek. Instead, the author mainly sits alone in Dimitri's Taverna in the village of Kamini on the Greek island of Hydra, and watches closely other old men, natives of this small island, as they spent their final days in close, familiar contact with each other.
As he sits, always keeping a close eye on the old men, he ponders not only Epicurus, but also heavy hitters like Camus, Aristotle, Saint Augustine, Sartre, Aeschylus, Longfellow, Kant, Plato, Nat King Cole and a host of others.
It is clear that Klein puts his degree in philosophy from Harvard to good use here; and it is equally clear that at this stage in his life, he favors the writing of Epicurus because Epicurus believed that old age was the pinnacle of life, the best it gets.
Writes Epicurus: "It is not the young man who should be considered fortunate but the old man who has lived well, because the young man in his prime wanders much by chance, vacillating in his beliefs, while the old man has docked in the harbor, having safeguarded his true happiness."
Yet, despite this sage advice, we find the author himself vacillating from this "safe harbor."
As he admits: "The idea of being an old man safe in the harbor buoys me up as I sit under Dimitri's awning, pondering the best way to spend this stage of my life. It is the notion of being free from vacillating beliefs that gets to me."
Indeed.
Should the aging author Klein take seriously-- unsaid, but strongly implied-- the famous.....Read More
ESSAY
The Rise of the Creative Class (10th anniversary revised edition)
By Richard Florida
An essay by Jan Alexander
Why Be Cool When You Can Buy Cool?
Here is a New York story that always makes me want to jump off a ledge: Jane Jacobs, the writer and long-time Greenwich Village resident who became legendary for defining what made a city livable, came back for a visit in 2004, two years before she died at the age of 90. New Yorker writer Adam Gopnik caught up with her and in a Talk of the Town story quoted her saying, "Whenever I'm here I go back to look at our house, 555 Hudson Street, and I know that I could never afford it now."
Jacobs and her husband, Robert Jacobs, an architect, bought the red brick house on Hudson Street in 1947 for $7,000. She lived in the Village during the years when the young Bob Dylan sang in coffeehouses, abstract expressionists met and pondered the meaning of life, and the gay liberation movement was born. The Village was a village then, bustling with immigrants and mom-and-pop stores, but on any given day Jacobs might have passed some famous neighbors on the streets, including e.e. Cummings, Jack Kerouac, Jasper John, and Jackson Pollock.
Jacobs' seminal book, The Death and Life of Great American Cities, published in 1961, took all of this in. Her premise was that New York's future depended not so much on grand skyscrapers as on the preservation of small neighborhoods and the "street ballet" that she said led .....Read More
PORTFOLIO
Portfolio: Lynne St. Clare Foster's special gift
by Kara Fox
One of photography's many gifts is that one can see it, think it, change it and share it. Photography is no longer unique. Most everyone takes photos. From the time man first captured images on a camera till now when photographs can even be taken with a telephone and sent across the world, we communicate, very easily, with images to accompany our words.
This thought does not minimize the significance of these images, nor the ways in which the person freezing the image sees what it is they want to show you and how they want to show you.
Lynne St. Clare Foster does it all. Her special gift is to give us images you want to look at forever. When Fred Beauford suggested, strongly, that I contact Lynne as a possible subject for a Neworld Review portfolio piece, I was intrigued. His suggestion was golden as you will soon see.
At a very early age, a camera was put in Lynne's hands and that was the beginning of her life-long journey. It was a Kodak Instamatic.
She took it wherever she went. "There are two instances when I felt it was magic in my hands. The beginning was the first summer I was at camp. It was a difficult time for me and .....Read More
MONTHLY QUIZ
Which Portfolio has continued to be the most popular?
The Life Changing Photography of Gil Garcetti Vol. 4, No. 22 A column by Kara Fox
What father and daughter were No 1 and No. 2 in monthly page requests in issue number 34?

1.Excerpt from Grief Too Sad For Song: A Biography of Novelist James Jones By Michael J. Moore
Excerpt from Grief Too Sad For Song, Vol.5, No. 34.

2. Long Island Noir, Edited By Kaylie Jones, reviewed by Loretta H. Campbell Long Island Noir Vol.5, No. 34.,
A WRITER'S WORLD
A Writer's World
by Molly Moynahan
Writing & Money & Work
"Five hundred a year stands for the power to contemplate…a lock on the door means the power to think for yourself."
Virginia Woolf
"It takes perseverance, the ability to endure criticism and rejection, a willingness to take other work to stay the course and finally, talent. A lot of talent.  Boatloads of talent.  Do all talented writers get published? Of course not. Most of them don't while; many who are mediocre do. But that's art and writing and the world we inhabit and an issue I can't allow myself to contemplate lest it turn me into a bitter, blocked writer."                                                  
Molly Moynahan
What is the relationship of money to art? Necessary and uncomfortable and obvious and vague. I grew up with a bunch of rich kids and lots of them became artists. But that is a false syllogism: A=Rich kids have money, B=Many rich kids become artists, C=You need to be rich to be an artist. Still, my classmates could afford expensive private art schools where they received the education, support and connections to stick it out. Money can only do so much, however.
I have never been financially independent and a serious writer. The jobs I have held as a writer range from mother to college writing instructor to full-time high school English teacher to Literacy Consultant. Still, I'm not sure whether financial independence was ever the point.  I like to work. I wrote my third novel while working full-time as a high school English teacher, and and while being a divorced mother and trying to appease the misery of my now husband's, then boyfriend's, three children.
The night before HarperCollins bought the book, I was having my hair combed through with lice removal shampoo by the aforementioned man as his child had given us all lice. School was beginning the next day, and.....Read More
REVIEWING
Waging Heavy Peace: A Hippie Dream
By Neil Young
Reviewed by M. J. Moore
An American Romantic
The old joke about the 1960s goes something like this: "If you can remember the Sixties, then you weren't there!" Well, there's no doubt that singer-songwriter-activist-musician-environmentalist-philanthropist and filmmaker Neil Young was there.
All you have to do is tune in at any time to Classic Rock Radio and within the hour it's likely you'll hear a performance that features either a Neil Young lead vocal; or his background vocals and harmonies; or at the very least his guitar or his piano playing. Have you sung along lately to a radio replay of "Teach Your Children" or "For What It's Worth" ("Hey, children! What's that sound? Everybody look . . .")? Go ahead. You can probably finish singing that chorus. Just as you can probably sing along with "Old Man" and "4+20" and "Carry On" and "(Four Dead in) Ohio."
His name will be forever spoken of in league with Crosby, Stills and Nash. It was cosmic timing of the most beneficent sort when David Crosby, Graham Nash and Stephen Stills (all of whom, like Young, were moving in and out of bands like Buffalo Springfield, the Hollies, and other ensembles in the late 1960s) recruited Neil Young.
One of CSN & Y's first gigs was the Woodstock Festival in August of 1969, and their performance as preserved on the Woodstock album and film launched their legend.
Their sound, their looks (a blend of hippie artistes and Kit Carson-era long-haired renegades), their unique admixture of lyrics that bordered on poetry and also their occasional political proclamations, combined with their deep connection to the youthful masses of Boomers who in the latter half of the Sixties dreamed of a bona-fide Counterculture, found CSN & Y serving as.....Read More
REVIEWING
The Tale of the Heike
Translated By Royal Tyler
Reviewed by Jane M McCabe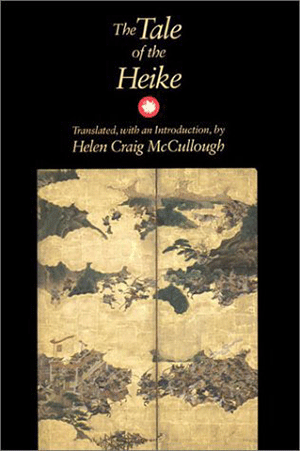 The Jetavana Temple bells
 Ring the passing of all things
 Twinned sal trees, white in full flower,
 Declare the great man's certain fall.
In the Twelfth Century AD, while in the West the Crusaders were marching in droves to the re-conquer the Holy Land from the infidel Muslims (both Muslims and Christians referred to the other as "infidels") and the main characters that strut that stage were Richard the Lion-Hearted and Saladin, in the far East, in Japan, another pageant was being played out between the Heike and Genji samurai clans. The star in this play was the ruthless Taira (Heike) war-lord, Kiyomori.
In the West we have Homer's epic Iliad and Odyssey; and, in the East we have The Tale of Genji (also recently translated by Royall Tyler, an Oriental scholar retired from the Australian National University where he taught Japanese language and literature) and now, The Tale of the Heike. It's illustrated with 55 woodcuts from the 19th Century artist Teisai Hokuba, a disciple of Hokusai, and is supplemented by maps, genealogies and notes.
The Tale of the Heike (平家物語 Heike Monogatari) is an epic account of the struggle between the Tairaand Minamota (Genji) clans for control of Japan at the end of the 12th century in the Genpei War (1180-1185).
The Tale of the Heike's origin cannot be reduced to a single creator. Like most epic poems, it is the result of a conglomeration of differing versions passed down through an oral tradition by biwa (similar to a lute)-playing bards known as biwahṓshi.
The 14th Century monk Yoshida Kenkō (1282-1350) offers a.....Read More
NOVEL
The African Gentlemen

…and The Plot to Re-establish The New World Order
A Novel by Fred Beauford
Chapter 54
54
Daji told me to me to meet him at exactly 3:45pm on Tuesday at a large office building in a busy, business section of Mid-City.
As I rode up to the 36th floor, strangely alone in the elevator, I began practicing my "face." I was taught that before you went on stage, or before the camera, you had to set both your face and your body to fit the role.
The face I was going to present to these people, whoever they were, was going to be one of deadly seriousness and determination, with a strong touch of self-righteous indignation, tinged with a streak of genuine anger, anger so real that it could possibly burst openly into acts of unspeakable violence.
As I walked off the elevator, that face lasted only for a brief second. As soon as I entered the room I saw two beefy uniformed .....Read More
REVIEWING
Bad Little Falls
By Paul Doiron
Read by: Henry Leyva
Reviewed by Michael Carey
Searching for the truth.
Paul Doiron is the award-winning author of the crime novel series centered around Maine game warden, Mike Bowditch. Bowditch is your well-rounded hero with a rough upbringing, a quick fuse, and a penchant for shortsighted decisions that get him into trouble time and again, both with his superiors and the locals.
Bad Little Falls is the third adventure that Doiron has plotted for our enjoyment, and Bowditch's antics in the first two books have landed him in no man's land, or District 58, "down east" near the Canadian border. It's a community of high poverty, where a profitable drug trade is common knowledge and those running the show are feared.
Mike Bowditch is asked to provide assistance when a frostbitten man appears at a local cabin out of the flurries and gales of a fierce snowstorm.  The impending search uncovers a dead man. The corpse's tattoo helps Mike identify that the body is none other than the local drug dealer and the ex-boyfriend of an attractive McDonald's morning ......Read More