This Month's Articles
REVIEWING
Approaching Ali: A Reclamation in Three Acts
By Davis Miller
Blood Brothers: The Fatal Friendship between Muhammad Ali and Malcolm X
By Randy Roberts and Johnny Smith
Reviewed by Robert Fleming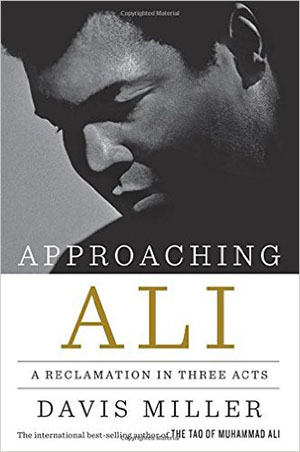 In a recent Sports Illustrated article, the magazine acknowledged the name, Muhammad Ali, not only because of his stellar achievements in the ring, but also, his fearless integrity in his daily life. The boxer stood up against the might of the U.S. government, citing his Muslim faith, about serving in the military in an unpopular war.
This is why we continue to be fascinated by him long after he hung up his boxing gloves. We love heroes.
Currently, two books join the seemingly endless series of printed text on the 74-year-old boxer, who once proclaimed himself, "The Greatest."
One book, Approaching Ali: A Reclamation in Three Acts, deals with the aging icon, retired and battling the ravages of Parkinson's disease, and out of the spotlight.
Diagnosed in 1984, he has dealt with the symptoms of the degenerative condition for most of his life. The book, written by veteran sportswriter, Davis Miller, chronicles their friendship going back to 1964 when the sickly 11-year-old Miller used "The Champ" as a catalyst for self-improvement, pulling himself out of a deep funk following his mother's sudden death.
"Ali has been the most reliably large planet in my solar system, the astronomical constant, my friend and great subject," writes a grateful Miller, thinking back to his meaningful encounters with the boxer.
He credits his admiration of Ali because he provided the spark for his evolution from a confused youth, to a competitive....Read More

REVIEWING
Kookooland, a Memoir
By Gloria Norris
Reviewed by Janet Garber
Daddy's Home!
On the one hand Jimmy likes having his nine-year-old daughter around, treats her more like a sidekick, partner in crime, a son. When he's not putting her down by calling her "dummkopf" (she gets straight A's) or "Dracula" (she has crooked teeth) he's dragging her along to duck shoots, afternoons of using rats for rifle practice, hours of hanging out in the car while he's fencing stolen air conditioners and TV's.
When push comes to shove, he finagles things to his advantage and occasionally to his family's. He helps Gloria's half-sister, who's 16, obtain an illegal abortion, thereby saving her from a doomed marriage. He teaches Gloria to shoot straight and to fight for herself. What else is there on the plus side? He's obviously bright and street smart, and we sense he really does care about his daughters, especially Gloria.
On the other hand, the balancing bar is hitting the ground. Jimmy is a bully, a bigot, a racetrack gambler, a con man, a macho pig with violent tendencies, and someone who steals from his own family. He may also be a wife beater. While his wife works the night shift at an eyeglass factory, cleans houses, and takes care of all household matters, he does occasional landscape work.
He's lazy. He's a big drinker, so is his wife, and we can't blame her for that. In later years, he's on and off prescription Librium, dealing drugs and smoking pot. He calls women, including those in his family, "whores," while he sleeps around, and terrifies them regularly by driving recklessly while drunk, waving guns around and firing them in the house. He defends his best friend who just happened to 86 his ex-wife and a guy she picked up in the bar. He's quite a fellow and there's even a hint he may have abused his older daughter when she was four.
Yet. . .Gloria Norris has ....Read More

REVIEWING
Reading Lolita in Tehran
By Azar Nafisi
Reviewed by Sally Cobau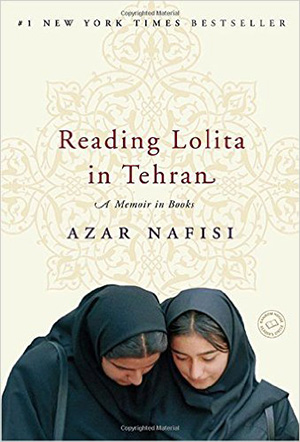 It's hard to write about something as complex as Reading Lolita in Tehran by Azar Nafisi. In fact I approach this review with trepidation. I know that others won't agree with Nafisi's position, and I fear that so much has been written about the book already. Is it necessary to write another review? Reading Lolita in Tehran was published in 2003 and became a best-seller. The world of Iran that Nafisi depicts—post-revolutionary Iran—is bleak, chaotic, and indisputably bad for women, yet Nafisi writes with a tenderness that is extraordinary.
I try to avoid best sellers, even when I think their subject may be of interest (hence my objection to Eat, Pray, Love, which undoubtedly I would have enjoyed if it hadn't gotten so much attention). And so I avoided Reading Lolita in Tehran, a book that I felt was force-fed to freshman and women in reading groups alike, until the stars aligned and I felt that I could avoid the book no longer.
The cover depicts two women, eyes downcast wearing the veil or hijab, which is a requirement of all Iranian women when going out in public. With heads bowed, they look at once composed, serious, and submissive, yet the women are beautiful and alluring—perhaps more mysterious to western eyes because of the veil.
I bring up the veil, not because as a westerner I gawk at the cultural and religious symbol, but because the veil is crucial to Nafisi's own position. She couldn't stand being required to wear a veil. A brilliant scholar and popular teacher at a university in Tehran, she balked at the restrictions placed on female students and faculty alike and eventually quit her job.
To her, wearing the veil is a symbol of the imposed male hierarchy of the state, an unwelcome pulse-heightening, threating mandate that she finds excruciating. Nowhere in the book does she describe her religious beliefs but I believe her to be agnostic. Being forced into religion is simply not her style. It's interesting that the veil becomes a....Read More

REVIEWING
Dynasty: The Rise and Fall of the House of Caesar
By Tom Holland
Reviewed by Michael Carey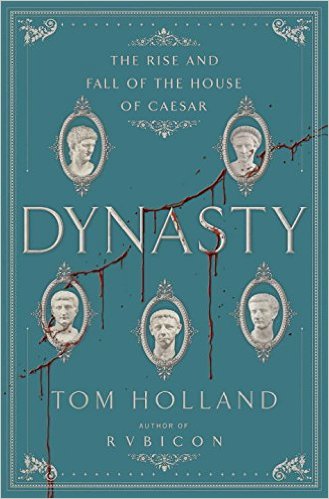 Tom Holland is a uniquely gifted author. He has been recognized time and again for his work, and not just for the Historical books he has written. The subject matter of his non-fiction seems to be centered around the Mediterranean Sea and the progress of Western Civilization.
To date he has covered from the Greek-Persian Wars through the founding of the Global Arab Empire. Recently Holland once again set his sights on the Roman Empire. In Rubicon, he told the story of Julius Caesar's rise to power, and now in Dynasty, Holland continues the story of the house that Caesar built.
The descendants of Julius Caesar produced five rulers of Rome. The transition from the Republic (whose supporters cut down their would be leader on the ides of March rather than see him rule) to the Empire we all know it became is a subtle, but powerful, tale of ambitious, intelligent, and ruthless men and women. It is also a story of death, loss, and fear.
In the wake of civil war, a war that brutalized and shook the foundation of Rome to its core, the citizens desired any alternative to the shadows of their immediate past.
Octavius, now known better as Augustus, was young, but he dared to give the people what they wanted. The methods of his rise, as disreputable as they are rumored to be, led way to peace, a peace the Romans would give almost anything to keep.
Augustus put away his childish games when his power was solidified and became first man of the republic. His genius....Read More

REVIEWING
I Greet You at the Beginning of a Great Career: The Selected Correspondence of Lawrence Ferlinghetti and Allen Ginsberg—1955 -1997
Editor, Bill Morgan
Writing across the Landscape: Travel Journals—1960-2010
Editors, Giada Diano and Matthew Gleeson
Reviewed by Michael Moreau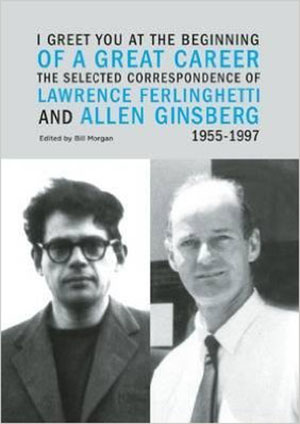 Ferlinghetti: The Godfather of the Beats
Holden Caulfield may have softened juvenile angst with the assurance that even if you are a misfit you are somehow above it all. Then perhaps at 14 or 15 you discover On the Road and it explodes in your head like Gregory Corso's "Bomb," a poem shaped like a bomb that speaks to the conformity of the Cold War years and meaningless drills one's hopelessly square teachers lead every Friday afternoon.
You may have so internalized the spirit of Sal Paradise, and especially Dean Moriarty, that you and your buddy one day split from your conservative white suburb and hitchhike up to San Francisco where a favorite aunt in Marin County lets you lay down your sleeping bags and even loans you her car to get into the city to soak up the vibes in North Beach (Haight Ashbury hadn't been discovered yet), buy a baguette and block of cheese at an Italian deli, pay a bum a quarter to buy you a jug of Red Mountain Burgundy, and hang out in Washington Square.
The main deal, though, is getting to City Lights book store where it all began—vainly hoping to get a glimpse of Ginsberg or Corso, or at least Ferlinghetti himself. Of course not knowing what to say if you do encounter one of your heroes.
But the years pile on—the hippies replace the beats—and you go on to college. And after having read the poets who were inspired by Whitman, Keats, and Wordsworth you actually study Whitman, Keats, and Wordsworth— while informally keeping up with your childhood idols.
You hear the shocking news of Kerouac's death while walking with a girlfriend across the quad. It doesn't register to a callow freshman just how young the Beat icon was nor....Read More

NOVELLA
A History of The 21st Century
A Memoir By Major Alexander Pushkin Litvinova, U.S. Army, ret.
A Novella by Fred Beauford
Chapter 8
Of all the things that you wrote, Father, other than what you wrote about Mother, one passage has always stood out in my mind. I have it underlined in yellow and maybe for reasons of age, a greater understanding and respect for thought and contemplation, or just the sheer pride that my father wrote such wise words, I go back to it often lately.
In your last novel you had one of your characters say,        "Life is mysterious, scary…with no rhyme or reason. There's not one person on this planet that knows with absolute certainty what it's all about. Not one, despite all the bullshit. So, why hurt people, even if they are your enemy? Why go out and deliberately try to hurt another human being? Life itself will sooner or later give them all the hurt that they will ever need. Why add to their misery?"
With all due respect, Father, at first when I first read it I said bullshit.. It sounded good, but it was still bullshit. As a man of action, a Major in the mighty tank Corp, a mover and shaker in the business world of Manhattan, I was more than ready to put a hurting on anyone who tried to hurt me or someone close to me, and give them as much misery as they gave me.
But as I've aged and bore full witness to the awful pain of the world of the living—from losing my dear friends from the Big Bang, and notwithstanding the awful pain Mother experienced, first from losing you, her brilliant, loving Pushkin; to the gruesome pain, both physical and mental that Sergie inflicted on her; the cold-blooded terror of witnessing the death of the Gangster; to the disappointment of the so-called American dream—I understood why you wrote what you wrote.
You wrote that in your late fifties. I doubt very much if you could have written the same words even ten years earlier. I now know that those are the wise words of an older person who has lived....Read More

POEM
Two poems by Karin Schalm
The Generalist
What do I know about chai?
Other than it's hot, it's brown.
Some type of sweet and some type of spice.
If there was a tournament
for chai, I could not be the judge.
I would have to be a spectator because,
as I said, I know very little about chai.
The Apprentice to Last Century Calls me on the Phone
At first it's madam this and madam that,
as if I'd won a sliding miter saw,
something mechanical but mysterious,
and he's stuck explaining to me
(the lady of the house) how it all works.
The apprentice says he'll start
on January 1, 1900 and describe in detail
(he assures me in real time it will only take moments)
all the sins of the twentieth century.
I'm not up for this and say as much.
How's the weather? he interrupts.....Read More

ESSAY
Mario Puzo's debut:
THE DARK ARENA
An essay by M. J. Moore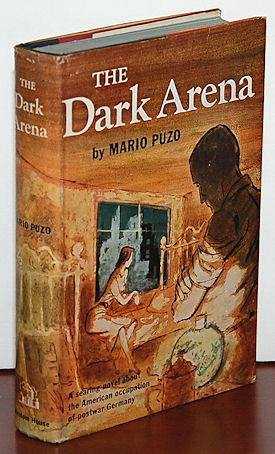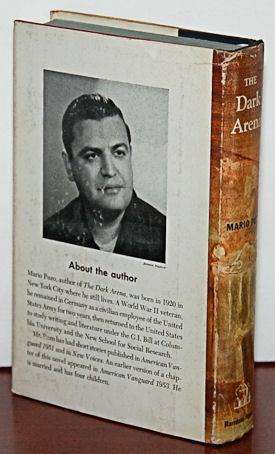 When Mario Puzo's first novel, The Dark Arena, appeared in February, 1955, the tenth anniversary of the end of the Second World War in Europe was imminent.
But there was no interest in a national commemoration. American life at that time was consumed by the power of America's roaring postwar economy, the surplus of new children to be raised as the Baby Boom reached its all-time-high, and the degree to which television was now conquering not just the national culture but almost every living room in homes from coast to coast. The timing of the publication of Puzo's novel was unhelpful.
And then there was the issue of the Holocaust.
At the time, that subject was largely taboo. It was scarcely broached in academe. Rarely did any movie, novel, or play come close to hinting at it.
Although there were hundreds of new films and books and articles about the war in Europe that were widely seen or read in the decade after World War Two, hardly any confronted the issue of the Holocaust, (which would not be referred to with the "h" in "holocaust"—defined by Webster's as "to be consumed by a large fire"— capitalized until decades later.)
Figuratively speaking, the mass media and the public at large had buried those issues of LIFE Magazine (and the concomitant newsreels) from 1945, and a definite policy of willful amnesia was invoked. Thus it was unusual and brave of Puzo to create in The Dark Arena the character of Leo. He is a secondary character in the novel, but in certain chapters and throughout critical scenes, his presence is vital.  And his words are crucial.
As a survivor of Buchenwald who is open to answering rudimentary questions about the concentration camps when he's conversing with Walter Mosca or a handful of the occupation troops with whom Mosca surrounds himself, Leo and his thoughts carry a great deal of weight.
Not only was Buchenwald one of the camps that American Army soldiers liberated in April 1945, it was also one of the camps that by name and also by a surfeit of horrific newsreel images had infiltrated the American psyche. Legendary radio newscaster Edward R. Murrow was....Read More

REVIEWING
Those Who Leave & Those Who Stay
The Story of the Lost Child
Books Three and Four of the Neapolitan Novels
By Elena Ferrante
Translated from the Italian by Ann Goldstein
Reviewed by Jane McCabe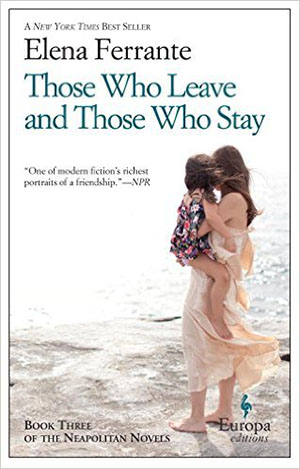 A good novel, or, as in this case, a good set of novels, set in a historical time (as opposed to a historical novel) can tell more, I believe, about that period than a history book might tell. (The same is true of a good biography.) We can learn more from the Russian revolt of 1906 from Tolstoy's War and Peace, or about working people in late 19th Century France from Emil Zola's L'Assommoir than history books will tell.
Elena Ferrante was born in 1944 in Naples (as were also the two main protagonists of the Neapolitan Quartet, Lena and Lila.) She would have been 20 years old in 1964, when the United States entered into its miserable war in Viet Nam. At this time there was considerable political unrest in Italy with the Communists trying to unseat the remaining Fascists from government….
At the end of The Story of a New Name, the second book in the quartet (previously reviewed here, as was first, My Brilliant Friend,) Lila has left Stefano. After an affair with Nino, she is abandoned. When she becomes pregnant, she believes the father is Nino, until the boy's physical characteristics reveal that Stefano is indeed his father.
Elena, meanwhile, has published her first novel, which has been well received, and she is engaged to Pietro, who comes from a well-respected academic family.
This is how she Lila escaped....Read More