REVIEWING
Infamy: The Shocking Story of the Japanese American Internment in World War Two
By Richard Reeves
Henry Holt and Company | 2015 | 368 pages
Reviewed by Fred Beauford
This Time It's Personal
For a number of years I ran a small café (Fred's Café) and bookstore at the Sunday Hollywood Farmer's Market on Ivar, between Hollywood Blvd, and Sunset.
I was then a member of the Ivar Theater, now owned by the Inner City Cultural Center, an organization I worked for over two decades.
The Ivar Theater was then the most prominent structure on the two blocks, and we had voted to allow the farmers to use our restrooms on Sunday
But someone had to be there by 6:30am to let everybody in. Theater people, as most of you could have guessed,  are not noted for being early risers. So, as the only writer on the Board of Directors, I was the one everyone pointed at.
So what! Unlike those actors and actresses and directors, the night offered little for me. I loved getting up early.
My little café and bookstore did well, and I made many friends. One day, the friendly lady that sold me those delicious fuji apples, came out of the restroom, stopped, and pointed to a new book on sale, Farewell to Manzanar, by Jeanne Wakatsuk Houston and James Houston.
"See that little girl in that picture on the cover, that's me."
I didn't know what to say. But, from that brief statement came a history lesson that I knew nothing about: The force internment of Japanese Americans in concentration camps in World War Two, which Richard Reeves covers with remarkable writing skills, excellent research and a voice much like the voice that was running through my head as the friendly apple seller over time told me her harrowing tale, which Infamy well document.
Reeves makes an important point early in his book: "Living in California on and off for years, I've passed Manzanar many time, each time thinking I should stop; each time thinking I should write about what happened there and in the other camps in Arizona, Colorado, Wyoming, Utah, and Arkansas, I am from a part of the country, New York, where most of the people I know had only the vaguest notion that these events happened."
He had that right. This rube from the Bronx was one of those "educated" New Yorkers who knew nothing about these camps. Concentration camps were for Nazis, not Americans.
After the attack of Pearl Harbor on December 7, 1941, attention was immediately focused on the Japanese living among us, most of whom lived on the west coast, with California having the largest number. The FBI started raiding homes, detaining at will any Japanese American they deemed worthy of investigation.
Some of this was driven by the notion that they were different, inassimilable. As the Commanding Officer of the Western Defense Command, Lieutenant General John DeWitt said often, "A Jap is a Jap."
The press and the politicians whipped the American public into a wild frenzy over this potential "Fifth Column." Among these are historic names that I was shocked to find.
As Reeves point out: "The villains of this story include California attorney general Earl Warren, who rode the anti-Japanese tide to the governorship of California; Secretary of State Cordell Hull; Secretary of War Henry Stimson; Assistant Secretary of war John McCloy; Roger Baldwin, the hypocritical founder of the American Civil Liberties Union; Supreme Court justices Tom Clark and William O. Douglas; as well as William Randolph Hearst, Walter Lippmann, Edward R. Murrow, and hundreds of other raving journalists."
In addition, there was the land grab of the greedy whites that coveted Japanese business, and especially the farms they so skillfully managed.
Writes Reeves: "Whatever goodwill there was for Issei and Nisei after Pearl Harbor was soon gone as news arrived daily of seemingly invincible and brutal Japanese armies running wild through the Philippines, Burma, Hong Kong, Malaya, and the Dutch East Indies. Tolerance of any kind was replaced by fear and by the greed of white merchants and farmers who wanted to eliminate competition from California's six thousand Japanese-operated farms, which totaled at least 250,000 acres and were worth more than $75 million. More than 40 percent of California's produce was from American Japanese farms that often stood on land white farmers ignored as too poor for cultivation.
"In the cities. Many white businessmen coveted the stores, businesses, and fishing boats of Japanese competitors."
I should add that it wasn't just the "greedy whites" that benefited from the internment of the Japanese Americans; but, as my friend, the apple seller, pointed out to me, that many of those nice homes black Americans were now living in in South Central Los Angeles, were once owned by Japanese Americans.
When the roundup came they were given just 24 hours to get everything in order and could only take what they could carry. Their houses and businesses and property went for a song
***
In addition, there was also a Colonel Adolf Eichmann type, lurking, who provided the legal groundwork for sending the Japanese Americans to concentration camps: Colonel Karl Bendetsen.
Author Reeves has absolutely no use for this man, who was "a brilliant pathological liar, drove the process, grossly exaggerating the dangers posed by West Coast Japanese."
In one of the great ironies, given what was happening in Germany at the same time to Jews, Colonel Bendetsen was from a prominent Orthodox Jewish family that had emigrated from Lithuania. and his last name was Bendetson.
"But in 1929 he denied all that, claiming to be a Christian to get into a Stanford fraternity, Theta Delta Chi, which barred Jews from membership. As the years went by, he created a new biography under the name Bendetsen, saying that he was from a Danish logging family and that a fictional great-grandfather had come from Denmark to America in 1670," writes Reeves.
***
All of this set the stage for one of the most infamous acts in American history as on February 19, 1942, President Roosevelt, feeling pressure from wherever he turned, signed Executive Order 9066, which resulted in the mass incarceration of 120,000 West Coast American Japanese.
***
We see how all of this plays out in Richard Reeves" wonderful book Infamy. This, however, is not a pleasant book to read. There is just too much suffering. But the book does speak profoundly to the idea of America, whether the author realized it or not.
Most of the Japanese Americans face their unfair fate with much fortitude because they believed deeply in the idea of America, not the America that then existed.
My friend, the apple seller, at the Hollywood Farmer's Market, taught me that.
This is a must read book.
REVIEWING
A Spool of Blue Thread
By Anne Tyler
Knopf | 2015 | 358 pages
Reviewed by Janet Garber
A Hodgepodge Life
Anne Tyler won me over years ago with her wild tales of domestic life taking place in and around Baltimore, MD.  Hard to remember now my first exposure, movie (1988) or book (1985), Accidental Tourist, but who can forget the hilarity of William Hurt doing his laundry and showering at the same time, his sister alphabetizing her canned goods, and nutty, scattered, gorgeous Geena Davis, with her dog training school, landing like an asteroid right in the midst of all these OCD types, daring to upset their ironclad rules and routines
Few describe family life better than Tyler.  She patiently reels you in with her characters that, while living a pretty normal structured existence, suddenly break out and do the unthinkable.  Sometimes the catalyst is tragedy (Saint Maybe), other times the rule of unintended consequences (Digging to America, Back When We Were Grownups), occasionally, sudden unpremeditated whim.
Unlikely characters decide to shake things up a bit (Ladder of Years), actually quite a lot, and slip into another life entirely (Morgan's Passing)
The reader never knows what she's going to get.  Exposure to Tyler, however, teaches one to expect some sort of upheaval in the status quo.  Somebody will do something unthinkable, ill advised, unconventional or even immoral. Life will be changed forever, for better or worse.
A Spool of Blue Thread is Pulitzer Prize winning author Tyler's 20th novel and she's back in familiar territory, mining the fortunes of the Whitshank family over several generations.
On the outside, the Whitshanks present themselves as a close knit clan, financially solid, running a respected family business, living in a grand old house—successful by all the measures we usually apply to others.  As Tyler skips around the four generations, she allows us to see the kinks in their armor, the disgraces, missteps, scandals and secrets
Only Tyler can reveal her characters to us, warts and all, and not risk alienating the reader.  We're kept close in, one of the family ourselves, and share her great sympathy for the human condition and the difficulties of navigating life as an adult
The novel presents the second generation of Whitshanks most clearly: Abby and Red, childhood sweethearts now slowing down with age, and requiring the attention of their four grown children and assorted grandchildren.
Abby and Red, it turns out, are a real love match and happy to boot.  Abby has always opened their house, to the chagrin of her children, to all sorts of strangers and displaced persons and this house they've all returned to temporarily, built by Red's father, Junior, seems to be the real protagonist of this family drama.  We soon glimpse underneath the veneer of the Whitshanks' upper middle class respectability, a web of entanglements, half-truths, sorrows and shame
The novel opens with a portrayal of the wayward son, Denny, which is so relatable—don't we all know someone like him?—that it's hard to stop reading. Actually, we can't help but laugh at his outrageous behavior as a teen and later an adult, yet empathize completely with his frustrated parents and siblings: Denny disappears for years at a time, starting when he's just a teenager; he has sex and a baby; no one has an address for him; he calls in the middle of the night to say he's gay.  Is this last just a ploy for more attention?  Any surprise that his mother loves him best?
His sisters are hard-working professionals and lead normal lives (married, children) as does his adopted brother.  Denny resents his family deeply, yet lands back in their house to help them deal with a family emergency
Flashbacks to first generation Red and his wife, literally a child from the wrong side of the tracks (as he was) illuminate the truth behind the façade.  Red, a self-made man, creates something wonderful out of nothing, builds the perfect house and business, attains respectability while never able to relax fully and enjoy the fruits of his labor, his wife or his family
Though we have multiple points of view in this novel, Abby is the focal point: good natured and loving, hopeful and as devoted to her husband and children as he is. They are the glue that holds the family together and helps them weather what life brings their way
It's a hodgepodge life for all of us, isn't it?  We never foresee the compromises we'll need to make, the detours and digressions that will come along to unsettle us. How do we know which of life's circumstances and which of our decisions will ultimately enhance our happiness and which will thwart it?  Real life has no plot, no certainties or guarantees.
I think we read Tyler for her compassion towards her characters, her humorous takes on their quirky behaviors, the relatability of the situations they find themselves in. We await the surprises which are inevitable in her fiction and do not fail to delight.  This novel may not be her best—it's got lots of competition—but it's a chance to spend more time in the presence of a masterful writer.
REVIEWING
Selected Letters of Langston Hughes
Edited by Arnold Rampersad and David Roessel with Christa Fratantoro
Alfred A. Knopf | 2015 | 442 pages | $35.00
Reviewed by Robert Fleming
Like master writers James Weldon Johnson and James Baldwin, Langston Hughes was one of the most influential forces in African American letters of the last century, keeping his finger on the pulse of the black community through good and bad times. Not only did Hughes's work serve as a window to this exotic, soulful culture for the curiosity of whites, but he deepened and redefined that experience with his poetry, short fiction, travel pieces, the "Simple" newspaper columns, and plays in his campaign against racism and economic injustice
A few years ago, there appeared another Knopf offering, Remember Me To Harlem: The Letters of Langston Hughes and Carl Van Vechten – 1925-1964, that provided clues to the mystique of the writer in one of his more significant relationships with the celebrated white novelist, photographer and Harlem Renaissance patron, who penned the 1926 controversial novel, Nigger Heaven.
Hughes remained an enigma in that compilation as he does in this new collection, Selected Letters of Langston Hughes, always on the move and never a stationary target.
Although Hughes was considered a relic of a bygone era by the time of the Black Arts Movement, there are several clues to the riddle to be found in the new book on many fronts – personal, political, and literary. Veteran Hughes biographer Arnold Rampersad, with assistance from Roessel and Fratantoro, displays his love of words and correspondence to his family, friends, editors, patrons, and fledgling scribes. Hughes could be witty, funny, sarcastic, bitter, informative, infuriating, and petty. Sometimes he could be all of these things.
Often fans and friends wanted the old Langston Hughes back when he was just starting to make his mark in the literary world, when he wrote his famous 1926 manifesto, "The Negro Artist and the Racial Mountain."  It stated: "We younger Negro artists who create now intend to express our individual dark-skinned selves without fear or shame. We know we are beautiful. And ugly too."  With his head held high, Hughes refused to buy into the popular clichés or stereotypes. Not more bucks, sambos, pickaninnies or blackface.
The collected letters in the new book show the versatile scribe at the center of a funhouse mirror, giving different personas to various friends and associates.
But who was this man? James Mercer Langston Hughes was born in February 1, 1902 in Joplin, Missouri. He was very young when his parents divorced, and it was decided that he was going to live with his grandmother. After thirteen, he moved to Lincoln, Illinois to live with his mother, but soon they settled in Cleveland, Ohio where he graduated from high school.
Following graduation, he spent a year with his father in Mexico, in a relationship that was tense, leading him to go to New York where he attended a year at Columbia University. At this time, he held a number of odd jobs, and eventually traveled as a seaman to Africa and Europe. The well-traveled youth returned to the States where he published his first poetry book, "The Weary Blues" in 1926. In 1930, he published his first novel, "Not Without Laughter," the year after his graduation from Lincoln University. 
Like many black writers and artists, Hughes was attracted to communism, which he saw as a cure to Jim Crow. In fact, he traveled to the Soviet Union with a group hoping to make a film. It was never finished. He was politically aware, supporting the campaign to free the Scottsboro Boys, even traveling to Spain in 1937 to cover its civil war for a group of black newspapers. He steered clear of the war effort during the World War II but he later changed his mind, hoping military participation would end segregation at home.
Due to his political writings and publishing in various communist periodicals during the 1930s, Hughes was labeled a Red and called before Senator McCarthy's HUAC committee in 1953. He never joined the Communist Party, but he was a sympathizer. In 1960s, he was as creative as ever, and hailed as a historic literary icon at the First World Festival of Negro Arts in Dakar, Senegal.
Hughes published a large body of poetry with twenty books, two novels, six works of non-fiction, nine collections of short fictions, ten books for juvenile readers, eleven plays, numerous librettos, and edited nine books including The Book of Negro Folklore (1958), and Best Short Stories By Negro Writers (1967). His "Simple" series was published in black newspapers and was quite popular in the 1950s and 1960s. Hughes died of prostate cancer on May 22, 1967 in New York City.
Returning to the letters, Hughes read and answered his letters, as a part of his day. He loved the give and take of correspondence, often choosing to make a sharp political point or throw some literary shade or bargain for a better advance with a publisher. While some writers and artists became bitter and petty, he always looked ahead to tomorrow, upbeat and optimistic. One will notice that there are no love letters or anything of a private nature in this collection or other assemblages. He was a private man, very private.
The exchanges in the mail include some of his friends: Blanche Knopf, Carl Van Vechten, Zora Neale Hurston, Walter White, Countee Cullen, Claude McKay, Arna Bontemps, Charlotte (Godmother) Mason,  Ezra Pound, Richard Wright, James Baldwin, Gwendolyn Brooks, Martin Luther King Jr., Alice Walker, Kurt Weill, Muhammad Ali, and Amiri Baraka. Along with the photographs accompanying the letters, Hughes covered a great deal of topics, including the greatness of Bessie Smith, French style, "cullud" critics, voodoo items like "Follow Me Powder" or "Confusion Dust" or "Black Cats' Blood," the tyranny of landladies, lynching, the creative urge, the need for traveling, money and deadlines, Broadway, soul food, Jim Crow, Hemingway, Faulkner, Negro rage, Dorothy Parker, jazz, white Broadway, and the need to embrace the soul of blackness.
Overall, these letters both enlighten and conceal the man. He could often be writing one thing and thinking another. He thought of him as "a literary sharecropper," always working and writing, always planning the next project. He was generous to a fault. Some say he squandered his literary gifts but who in his time did more with them under the oppression of the glass ceiling of prejudice. Those who will scour the missives for any kind of hint that he was gay or involved in the dark arts will be disappointed. 
But what a fascinating man Langston Hughes was! This quote sums him up, for when the NAACP gave him its supreme honor, the Spingarn Medal in 1960, the writer said: "I can accept it only in the name of the Negro people who have given me the materials out of which my poems, stories, plays and songs, have come."  That was his credo. That was the life of Langston Hughes.
REVIEWING
Why Not Say What Happened
By Morris Dickstein
Liveright  - New York | 2015 | 297 pages | $27.95
Reviewed by M. J. Moore
In his new memoir Why Not Say What Happened (an apt line borrowed from poet Robert Lowell), the distinguished critic, professor, scholar, and book author Morris Dickstein adds a particularly telling subtitle: "A Sentimental Education."  Even those who haven't read Flaubert's second most famous novel (Sentimental Education is usually alluded to after Madame Bovary) will have no trouble getting the gist of that.
It's the sort of subtitle (restrained, modest, and tasteful) that is spot-on for this type of restrained, modest, and tasteful memoir.  Most importantly of all is that in Why Not Say What Happened, a looming gap is filled.  Memoirs abound about coming of age in the 1950s and 1960s, but this one's different: Books are in this author's DNA, and therefore the life-transforming effects of studious reading are ultimate issues.
Another great element in Dickstein's generously spirited autobiography is that he charts the course of a life that repeatedly dovetails with monumental cultural shifts, which have in many other chronicles evolved into clichés about the 1950s and the 1960s.  Those decades have been routinely reduced to "conformist" vs. "radical."
Morris Dickstein was born in 1940 into an extremely conservative, Jewish-American environment on the Lower East Side of New York City.  While making his way from his youth as an academic maven in yeshiva school to being a superlative university student of literature and history (Dickstein passed muster at Columbia, Yale, and Cambridge as he segued out of the Fifties and into the Sixties), he constantly noted the connections between past and present.  How so?
One example: before Beat poet Allen Ginsberg acquired any respect in the academy, Dickstein clearly ascertained that there was, indeed, a clear and discernible line to be drawn that connected the author of "Howl" with the work  of English Romantic poet William Blake and also the 19th-century "barbaric yawp" of Walt Whitman.
But it wasn't just the contrasts between seminars dominated by the Great Books paradigm and the increasingly noisy world outside that created conflict and tension in Dickstein's early years—there was also his intimidating sense that to be plunging so headlong into university life was a one-way ticket far and away from the Jewish orthodoxies of his childhood and adolescence. 
Unlike archetypal young rebels seeking to break away from all aspects of family "tradition," Dickstein had no such simple impulses.  He wanted to retain certain connections to some of what had defined his boyhood-to-manhood formation in the milieus of his yeshiva, a kosher home, Zionist summer camps, his first jobs in the Catskills, and family life.
And yet, he was driven to aspire to secular academic excellence, with a career as a professor always in view.  Such an exalted goal was a given in the life and the mind of Dickstein, whose willingness to work like a yeoman with books and ideas led to esteemed professors and critics a' la F. R. Leavis, Lionel Trilling, and later on Harold Bloom becoming his mentors.  By age 30, in 1970, Dickstein's career was launched.
The heart of this memoir is revealed again and again as we see in the arc of the author's life that while he was always steeped in Old World classroom protocols throughout his student years, he was also aware at all times of the wider world's cacophony and tumult and how it was affecting his generation, more and more.
Dickstein writes: "There were also momentous changes in the arts that kindled and channeled a new rebellious spirit: often scandalous Beat poetry readings before immense audiences like the one at Columbia in 1959; the lively bohemian folk music and coffeehouse scene that blossomed in Greenwich Village and in college towns, its roots in the old left-wing protest culture of the 1930s; the mind-bending new wave of foreign and low-budget independent films that challenged the Hollywood system and ushered in an exceptional moment of moviemaking and cinephilia; a vibrant modern jazz scene, linked with both Beat poetry and abstract expressionist art; and a restless, adventurous off-Broadway theater featuring the most innovative modern playwrights like Luigi Pirandello, Samuel Beckett, and Bertolt Brecht alongside provocative young American writers such as Edward Albee and Jack Gelber."
That sweeping assessment of the New York ambiance surrounding Columbia University as America tipped into the Sixties is the perfect sequel to Dickstein's earlier anecdote about "a peculiar standoff [that] developed between me and my Hebrew teachers . . . One of them, having spied me reading something behind my Talmud volume, swooped down on me and seized not a comic book, as he expected, but a slim volume of the Yale Shakespeare—appropriately, As You Like It, a play about leaving the city and the court behind, to find passion and regeneration in more natural surroundings, just what was missing on the Lower East Side.  Instead of tearing the book up in front of the class, as he would have done with a comic book, he stared at it blankly, as at a foreign body that had insinuated itself into Jewish life."
Such royal paradoxes inform the book throughout.  And it's no shock to the reader that gradually, incrementally, as the narrative peaks in the late 1960s and early 1970s, we see Morris Dickstein bridging the gap between the Old Guard of the patriarchal academe and the student radicals who succeeding at shutting down Columbia University in April 1968, the same month Martin Luther King was killed.
At its most personal, Why Not Say What Happened also offers readers a great love story, because in addition to his storied career as an intellectual maverick, the author's life has also been defined by one marriage (of fifty years) and the joys he discovered when rising to the challenges of fatherhood.  A life of blessings, indeed.
In 2015, as Twitter and texting reduce human interactions to fleeting, oftentimes idiotic jabbering, a memoir as textured, bookish, and capacious as Why Not Say What Happened affirms not just the life's work of Morris Dickstein, but the life of the mind.
(M. J. Moore is completing a biography of author Mario Puzo.)
REVIEWING
An Appalachian Experience: A Reflection on Bill Bryson's A Walk in the Woods
By Michael Carey
A Walk in the Woods: Rediscovering America on the Appalachian Trail
Read by: Bill Bryson
Kindle | 1998 | 305 pages | $5.70
When the Appalachian Trail, affectionately shortened to the 'AT', is mentioned, it evokes a dozen or so descriptive words, maybe more, from people who have heard of it. For anyone who has hiked even a mile on the trail, to talk of the AT may bring up some emotions or personal experience.
But more than either these descriptive words or the feelings of the millions who have set foot on the rocks, dirt, roots, grass, or undergrowth of that nearly 2, 200 mile stretch of nature, much of the U.S. knows the Appalachian Trail through the words and experience of Bill Bryson. His book, A Walk in the Woods: Rediscovering America on the Appalachian Trail, has sparked the interest and imagination of a new wave of hikers.
I set out on my adventure from Georgia without having read Bryson's book and felt the odd one out. Friends had referred it to me, and I thought I would read it before departing. Time grew short, so I downloaded it to my kindle and hit the trail, starting from Amicola Falls on April 31, 2014. With minimal experience (3 days in the Shenandoah Valley with a friend on a 3 month trek back in 2007) and limited knowledge (reading a preparation guide), I set off in an attempt to complete the estimated 2,185.3 miles of the Appalachian Trail.
From the get go, I heard people mention Bryson's book with varying opinions: "It's pretty good", "It's funny", "He didn't even finish", or  "You know they're making a movie". I felt almost instantly like I was up against Bryson. It was irrational. Why should I (or even how could I) compare my experiences with a book I haven't even read?
But some amazing things happened during the duration of my trip (not least of which was the beard I grew). One thing: I cared less and less about comparing my time on the trail to Bryson's while realizing I didn't want to write anything about my hike until I had read A Walk in the Woods.
It wasn't to compare my hike to his but to understand where everyone who had read his book was coming from. Now I know, and any resentment (from a jealous writer's perspective) or competition (from a hiker's perspective) has vanished.
In preparation for an attempt at a through hike of the Appalachian Trail, anyone, Bryson included, starts by getting together all the gear you need, and almost more of the gear you think you need. Five months is a long time to live out of a pack, but it is amazing how one can learn what is needed and what isn't. I started with twelve days worth of food, probably 4 pairs of clothes, two methods for purifying water, at least ten batteries, a solar panel, and a couple pound trowel.
My pack weighed over fifty pounds I know, but I was scared to weigh it after I reached 45lbs and I was still packing. With sacks hanging off every side of my pack and the main compartment unable to shut, I walked away from my parents, whom had dropped me off, looking like a complete greenhorn.
Little did I expect that I would still be sending things home in New Hampshire and would learn to plan my stops so that I didn't ever have to carry more than 6 days of food. Sometimes I think I might have gotten through on dumb luck, but I know the people I met out on the trail were there to back me up.
An interesting thing happened after A Walk in the Woods was published. People referred to it as The Bryson Effect: more and more people are hiking the trail each year. The percentages of people that make it to Neels Gap, or Harper's Ferry, or even Mt. Kathadin that Bryson gives in his book are still close today, but the increase means that each year more and more people are completing thru-hikes.
And much of the AT's popularity has been attributed to the success of A Walk in the Woods. And with the movie, starring Robert Redford and Nick Nolte, coming out, the numbers on the Appalachian Trail are only expected to increase.  So in a way, Bryson, who hiked the AT almost 2 decades before me influenced my experience. I started late, but so did hundreds of others.
On my first day off Springer, I met two Germans and an Australian, as well as a score of others. The beauty and renown of the trail (thanks to Bryson and a handful of documentaries) has become an international endeavor, much like climbing Everest, but cheaper and longer.
Bryson mentions long stretches of trail where he saw or encountered no other hikers. My experience was almost opposite. At times, I wished for a more solitary, soul-searching experience, for travelling with others definitely helps to define your experience. We grouped up early, and made plans for the day, or coming days, and tried to stick to them. So even if I lost my trail friends during the day, we would catch up in the evening, and as such it became a social experience as much as nature. Some people seek the solitude of the woods (which I still did find often), but that is becoming, in small increments, more difficult to find.
A funny thing about the trail, only touched on by Bill Bryson, is the culture of trail names. Often you might not even know the real name of a person you've been hiking with for a week or more. "Oh, that's just Turtle."
I hiked with a Sherlock, Spider, Sunshine, Red Foot, Mecca, Yukon, K-Bar, Sonic, Pockets, Color Bandit, Wilderness Hawk, Tee Bird, Cinnamon Girl, and Chewy among many others. One pastime while hiking was to play the alphabet game with trail names of people you'd met. A section hiker/photographer who made and shared fajitas with a group of us was given the trail name X-Factor (partly in gratitude and partly because we didn't have an 'X' name.
It's tough to think about the whole experience of the trail. It is very long and has so many things to see and so many people to meet. When Bryson says, "If I walked twelve miles instead of, say, five, what would it gain me after all? Certainly not any sight or experience or sensation that I hadn't had a thousand times already. That was the trouble with the AT—it was all one immensely long place, and there was more of it, infinitely more of it, than I could ever conquer. It wasn't that I wanted to quit. Quite the contrary. I was happy to walk, keen to walk. I just wanted to know what I was doing out here," I understand.
Everybody goes out on the trail looking for something, whether they have something in mind or are just searching, and at some point ask him or herself, "What am I doing out here?"
I was no different. I wanted to find the energy, purpose, and drive to move forward in life, not sure where it was leading me. Honestly though, every time I thought about the questions that I wanted to ask, I worked circles in my mind telling myself there was lots of time and never came to realize any answers. But in the meantime, I busied myself with the task at hand and the friends surrounding me.
Bryson's purpose in the hike, as he states, was not just for the achievement and challenge but also to (as the subtitle suggests) rediscover America after years abroad. He manages to capture through experience, hearsay, and research the essence of the Appalachian Trail. I can attest to the frustration of seemingly never-ending climbs. I heard the stories of other hikers (a special, diverse breed anyway you separate them) and their experiences with unique shuttle drivers. I feel the difference in Bryson's experience and mine (and there are many) speaks of the individual and the trail itself, which does change year-to-year subtly with a switchback here or a reroute there.
To tie his experience in with those of other hikers, Bryson presents the history of the trail, splicing his story together with historical tidbits about trees, wildlife, the creators of the trail, and even accounts of the deaths that occurred along its extensive reach. And the effect: it gives his book the sturdy legs of a hiker, legs that have summited mountains
I started A Walk in the Woods resistant, wanting to finish and say, "It could have been better." But Bill Bryson won me over. Maybe it could have been better, but his unique approach to the subject of the Appalachian Trail and his exploits as a hiker is presented in an entertaining and enlightening read. I read some things I knew, some I'd heard, but in the pages of Bryson's book, he also brings to light a plethora of interesting details and facts about the trail and its surroundings that in 5 months I wouldn't have guess at. And to enliven this information, he earnestly, and with some sarcastic humor, tells of his adventure with his old friend, Katz.
The history of the Appalachian Trail alone, I'm sorry to say, although interesting, will probably never make a best seller. And personally, although they are making a movie about Bryson's hike, I feel the book would not have found the acclaim it did without the extensive research on the history of America's oldest mountains.
Therein may lay Bryson's genius. It seemed to me that he presents the trail, in a way, as a testament to America, the land and the nation. As Bryson states of a moment on Mt. Killington, "I don't recall a moment in my life when I was more acutely aware of how providence has favored the land to which I was born."
He is speaking of the beauty of the vast scene stretching in all directions but also his knowledge of the Appalachian Trail that stretched out beneath his feet down to Georgia in one direction and up to Maine in another. Its construction took many years and still continues. The AT is claimed to be the largest volunteer effort in history. It is a melting pot of nature, love, sweat, tears, blood, and diversity. Surrounding it along the way are towns that have seen both fortune and tragedy and express in their histories the changing fancies of the people that have come and gone in the past.
All things considered, hiking the AT is an experience of a lifetime. Bryson expresses, even though he did not hike mile in and mile out from Springer Mountain to Mount Katahdin, that he hiked the AT. What I couldn't have known when I started my trip, and Bryson couldn't have known when he started his, was what exactly that might mean. "I thought for a moment, unsure. I had come to realize that I didn't have any feelings towards the AT that weren't confused and contradictory. I was weary of the trail, but still strangely in its thrall; found the endless slog tedious but irresistible; grew tired of the boundless woods but admired their boundlessness; enjoyed the escape from civilization and ached for its comforts," Bryson writes in A Walk in the Woods.
I do not speak for everyone (there were those that seemed to lap up every painstaking rock climb), but I have/had mixed feelings as well. I feel sad it's over, but I know, when I was finally at the end, I was ready to get back to 'civilization'. I still can't help but feel I missed opportunities for more—a deeper experience, greater adventure. I had a lot of fun and saw some of the greatest sights the eastern United States has to offer. I had highs of "it can't get any better" and lows of "what am I doing out here". It seems a condensed version of the human experience, and I feel that Bryson shared that on his hike and captures it in his book.
He wrote, "But I got a great deal else from the experience. I learned to pitch a tent and sleep beneath the stars. For a brief, proud period I was slender and fit. I gained a profound respect for wilderness and nature and the benign dark power of woods. I understand now, in a way I never did before, the colossal scale of the world. I found patience and fortitude that I didn't know I had. I discovered an America that millions of people scarcely know exists. I made a friend. I came home."
If I may I'd like to adjust this statement to fit my own experience: But I got a great deal else from the experience. I learned to pitch a tent and sleep beneath the stars but found I preferred a hammock. For a brief, proud period I thought my calves would become larger than my thighs. I gained a profound respect for wilderness and nature and the benign dark power of woods. I understand now, in a way I never did before, the colossal scale of the world. I found patience and fortitude that I didn't know I had. I discovered an America that millions of people scarcely know exists. I made friends. I continued my search for home.
And I'll leave you with one last quote from A Walk in the Woods, "Most of the time I am sunk in thought, but at some point on each walk there comes a moment when I look up and notice, with a kind of first-time astonishment, the amazing complex delicacy of the woods, the casual ease with which elemental things come together to form a composition that is—whatever the season, wherever I put my besotted gaze—perfect. Not just very fine or splendid, but perfect, unimprovable. You don't have to walk miles up mountains to achieve this, don't have to plod through blizzards, slip sputtering in mud, wade chest-deep through water, hike day after day to the edge of your limits—but believe me, it helps."
So wherever you are in the world, or in your life, get out and experience "perfection."
REVIEWING
Stone Harbor Bound
By Madeleine Mysko
Bridle Path Press | 2015
Reviewed by Hillary Mohaupt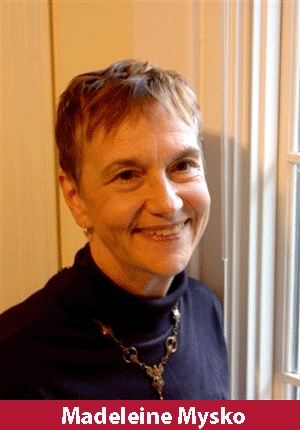 There are books that introduce readers to a new place and, over the course of the narrative, help readers form an emotional connection to that place. And then there are books like Madeleine Mysko's novel Stone Harbor Bound, which are set in places many readers know from summer tourism guides and reality TV.
Books like Stone Harbor Bound help both the protagonist and the readers discover a new side of a place they thought they knew.
Stone Harbor Bound is set in a beach town on the Jersey Shore, but it's not a beach novel. The novel follows Camille Pickett, an emergency room nurse who has just lost her partner, Bridget Gallagher, who is part of a messy, tight-knit family guided by traditions and faith that are foreign to Camille. The back blurb says that in the aftermath of Bridget's death, "all [Camille] has to do now is make a decision about the small bungalow she inherited."
There is, of course, nothing so simple about making decisions about a deceased loved one's possessions, but even as we first meet Camille on her drive from her home in Baltimore to the beach house in Stone Harbor, we see that she strives in all things to be the take-charge nurse, the "pathological rescuer."
It's not long before the reader sees her no-nonsense exterior crumble, even as she's drawn into the story of Owen Morton, a young man who gets sick while biking from Maryland to New Jersey to visit a friend and to drop in on his mother's weekend with her new in-laws, all the while struggling to overcome the nagging effects of a drinking habit he feels he cannot shake.
And when Camille arrives at Bridget's bungalow, the house opens itself up to the reader, allowing the reader to see more about Bridget and Camille's relationship than Camille is ready to admit.
Mysko carefully constructs the novel around Camille and Owen's stories, with chapters shifting from Camille to Owen to Owen's mother's point of view. Shifting point-of-view by chapter allows the reader to see the connections between Owen and Camille's stories, to follow them through the little beach town so that book's structure not only builds the plot but also the reader's sense of place.
The result is that the reader feels like Mysko is tilting a mirror to allow the reader to see all the angles of each character's story, the corners of the place, the layers of its themes.
Mysko is a master of description, using rich details to guide the reader through the narrative, to telegraph heartbreak. There's a pivotal moment in the book when we see Camille in action as a nurse, see her desire to help and consequently the ways in which she regrets not being able to save Bridget from a disease from which she could have only saved herself.
Camille "suffered then a skip in the running of her thoughts, a phenomenon that seemed to be the psychological equivalent of a heart palpitation—the mind momentarily knocked off balance by reality."  This metaphorically anatomical description simultaneously tells the reader a lot about Camille and about her state of mind, the extent of her grief.
Moreover, Mysko moves the reader gently through time, through the course of Camille and Bridget's relationship, so that we see the expanse of Camille's regret in the months after Bridget's death.
This is a book about grief, yes, but it is also a book about regret—Camille's and Owen's. As characters, Camille and Owen are equally well drawn. They share cycling as a hobby but more importantly they both find themselves at a psychological crossroads even as they are both in a geographical location they are reluctant to inhabit.
Mysko repeatedly declares that characters have been "set free," suggesting that in relinquishing the bonds of obligations imposed by other people they are striking out into the unknown territory of a liberated future.