REVIEWING
Stone Harbor Bound
By Madeleine Mysko
Bridle Path Press | 2015
Reviewed by Hillary Mohaupt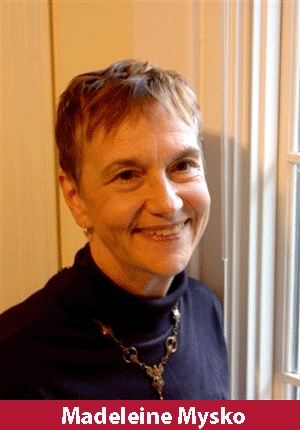 There are books that introduce readers to a new place and, over the course of the narrative, help readers form an emotional connection to that place. And then there are books like Madeleine Mysko's novel Stone Harbor Bound, which are set in places many readers know from summer tourism guides and reality TV.
Books like Stone Harbor Bound help both the protagonist and the readers discover a new side of a place they thought they knew.
Stone Harbor Bound is set in a beach town on the Jersey Shore, but it's not a beach novel. The novel follows Camille Pickett, an emergency room nurse who has just lost her partner, Bridget Gallagher, who is part of a messy, tight-knit family guided by traditions and faith that are foreign to Camille. The back blurb says that in the aftermath of Bridget's death, "all [Camille] has to do now is make a decision about the small bungalow she inherited."
There is, of course, nothing so simple about making decisions about a deceased loved one's possessions, but even as we first meet Camille on her drive from her home in Baltimore to the beach house in Stone Harbor, we see that she strives in all things to be the take-charge nurse, the "pathological rescuer."
It's not long before the reader sees her no-nonsense exterior crumble, even as she's drawn into the story of Owen Morton, a young man who gets sick while biking from Maryland to New Jersey to visit a friend and to drop in on his mother's weekend with her new in-laws, all the while struggling to overcome the nagging effects of a drinking habit he feels he cannot shake.
And when Camille arrives at Bridget's bungalow, the house opens itself up to the reader, allowing the reader to see more about Bridget and Camille's relationship than Camille is ready to admit.
Mysko carefully constructs the novel around Camille and Owen's stories, with chapters shifting from Camille to Owen to Owen's mother's point of view. Shifting point-of-view by chapter allows the reader to see the connections between Owen and Camille's stories, to follow them through the little beach town so that book's structure not only builds the plot but also the reader's sense of place.
The result is that the reader feels like Mysko is tilting a mirror to allow the reader to see all the angles of each character's story, the corners of the place, the layers of its themes.
Mysko is a master of description, using rich details to guide the reader through the narrative, to telegraph heartbreak. There's a pivotal moment in the book when we see Camille in action as a nurse, see her desire to help and consequently the ways in which she regrets not being able to save Bridget from a disease from which she could have only saved herself.
Camille "suffered then a skip in the running of her thoughts, a phenomenon that seemed to be the psychological equivalent of a heart palpitation—the mind momentarily knocked off balance by reality."  This metaphorically anatomical description simultaneously tells the reader a lot about Camille and about her state of mind, the extent of her grief.
Moreover, Mysko moves the reader gently through time, through the course of Camille and Bridget's relationship, so that we see the expanse of Camille's regret in the months after Bridget's death.
This is a book about grief, yes, but it is also a book about regret—Camille's and Owen's. As characters, Camille and Owen are equally well drawn. They share cycling as a hobby but more importantly they both find themselves at a psychological crossroads even as they are both in a geographical location they are reluctant to inhabit.
Mysko repeatedly declares that characters have been "set free," suggesting that in relinquishing the bonds of obligations imposed by other people they are striking out into the unknown territory of a liberated future.